LESSON 5 – CORRECTLY USING ADRENALINE AUTOINJECTORS
In Australia currently, there is only one Adrenaline auto-injector – EPIPEN
Adrenaline autoinjectors are single use automatic injectors containing a fixed dose of adrenaline and can be easily used by non-medical people.
Adrenaline is produced naturally in the human body. The synthetic adrenaline in the auto-injector is very safe when given as instructed and helps restore blood pressure and ease breathing difficulties.
The effect works within minutes and can control and reverse a severe allergic reaction and lasts approximately 10-20 minutes. The dose may need to be repeated if symptoms do not improve after 5 minutes or if a casualty deteriorates again any time after 5 minutes.
There are 2 types of Epipens (brand of Auto-injector) in Australia
EpiPen® Junior (0.15mg – green label) is recommended for children 10-20kg (aged approximately 1-5 years).

EpiPen® (0.30mg – yellow label) is recommended for children over 20kg (aged over approximately 5 years) and adults.

The Epipen
should be injected into the outer mid-thigh muscle and can be administered through a single layer of clothing (not seams or pockets and be aware of things in pockets).
Held in the thigh for 10 seconds before removal
It should be stored with a copy of the ASCIA Action Plan for Anaphylaxis, in an easily accessible, unlocked location.
should be clearly labelled with the name of the person.
Stored in an unlocked place out of reach of children
Stored between 15 degrees and 25 degrees celcius as this can diminish its quality
Stored way from light exposure as this can diminish its quality
Never refrigerated as this may damage or compromise the mechanism
If the adrenaline autoinjector is carried by the person at risk of anaphylaxis, a copy of their ASCIA Action Plan for Anaphylaxis must be carried with it
If in doubt, it is better to use an adrenaline autoinjector than not use it.  Delaying the use of the Epipen is more harmful (and potentially life threatening) than using it prematurely in a mild or moderate allergic reaction.
Adrenaline can produce temporary side effects such as a rapid heart rate, trembling and a pale complexion. This may make a casualty still look unwell even after the adrenaline autoinjector has been given.  Further doses of adrenaline should only be given when signs or symptoms of anaphylaxis are still present.
Administering the EpiPen adrenaline autoinjector device
Before giving the adrenaline autoinjector, check the expiry date and look through the little window to ensure that is not cloudy or discoloured.  If the only available device has expired, or the adrenaline is cloudy or discoloured, it is recommended to use it anyway in preference to not using one at all.


CLICK ON THIS LINK TO SEE A VIDEO OF HOW TO ADMINISTER AN EPIPEN
Ensure the epipen is held in the thigh for 10 seconds. If it is removed early it cannot be re-used. As you can see in the picture, once the epipen is fired the needle cannot be accessed again.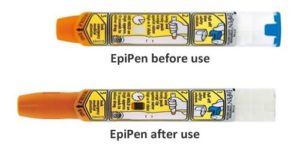 A PERSON SUFFERING ANAPHYLAXIS SHOULD NEVER BE WALKED ANYWHERE. THEY SHOULD EITHER BE LAID DOWN OR IF BREATHING IS DIFFICULT THEY SHOULD BE ALLOWED TO SIT UP.
  
How to position a very small child while giving an adrenaline autoinjector
A very small child who is conscious and requires restraint may need to be held on the adult's lap if there is only one person available. Do your best to keep the child in a lying position on your lap. Do not hold child upright as this is similar to standing.
PICTURE OF SMALL CHILD ON LAP
How to position a child or adult while giving an adrenaline autoinjector
PICTURE OF KID ON FLOOR LEANING OVER
Light restraint may be required in older children and adults. For example you may need to kneel beside the child and restrain their arms and legs.
If another person is present they can assist.
10. Self-administration of adrenaline autoinjectors
Older children or adults may be comfortable sitting while the adrenaline autoinjector is being given or if they are able to give it to themselves, whilst being supervised by an adult.  However, they should lie flat (preferably with legs slightly elevated) once the adrenaline autoinjector has been administered (unless they are having breathing difficulty or are vomiting).
PICTURE OF PERSON SELF-ADMINISTERING
Although a person may know how to administer their own adrenaline autoinjector, usually they are too unwell to self-administer during a severe reaction. No child, teen or adult experiencing anaphylaxis should be expected to be fully responsible for self-administration of an adrenaline autoinjector.
IMPORTANT CONSIDERATIONS IN THE USE OF AN EPIPEN
An epipen cannot be re-used. Once fired it will not work again
An expired, cloudy or discoloured adrenaline autoinjector SHOULD BE USED if it is the only one available in an emergency?
Adrenaline is safe and it is always better to use one earlier than needed than too late.
If you only have a yellow Epipen and a child is suffering Anaphyaxis, it is better to use it than doing nothing at all. 
If you only have a green Epipen and a person over 20kg is in need of adrenaline, then it should be used. If 2 are available then both could be used. 
Children under 1 are not normally prescribed Epipens 
Adrenaline is light and heat sensitive so adrenaline autoinjectors need to be stored in a cool place at room temperature, between 15 and 25 degrees Celsius.  Insulated wallets are available for purchase. Adrenaline Autoinjectors should never be refrigerated as this can damage the mechanism. 
Allowing an older child to carry an Epipen with them in school is a decision based on a combination of factors, including age, maturity and ability to use the device. Very young children should not carry their own device. Even if a person carries their own, they may not be able to self-administer due to the effects of anaphylaxis so help may be needed anyway and it also recommended that may they have a second adrenaline autoinjector kept on site at the school
Epipens should be in an accessible, unlocked location that is known to all staff. 
GENERAL USE ADRENALINE AUTO INJECTORS
Schools must have General use Autoinjectors under the requirements of the Ministerial order 706.  In the pre-school environment the choice to have a General use autoinjector is voluntary.
If adrenaline autoinjectors for general use are available a risk assessment should be undertaken to determine the number of devices required.  This assessment may be influenced by factors such as:
The number of students at the school with Anaphylaxis
The size of the school grounds and areas of potential emergenices
Enough General use autoinjectors for off-site activites and the school at the same time
FOR OFFSITE SCHOOL ACTIVITIES THESE THINGS NEED TO BE CONSIDERED
Number of children at risk of anaphylaxis attending offsite activity,
Total number of children attending offsite activity versus number of children remaining at school,
Consumption of food when offsite,
Location of excursion/s (e.g. city versus remote rural areas),
Ease of access to emergency services, and
Mobile telephone coverage.
Adrenaline autoinjector for general use (e.g. in first aid kits) are additional to the prescribed adrenaline autoinjectors for individuals. They are NOT a substitute for individuals at high risk of anaphylaxis having their own prescribed adrenaline autoinjector/s.